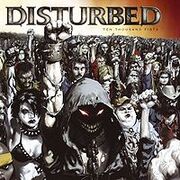 Ten Thousand Fists is the third studio album by American rock band Disturbed. It was released on September 20, 2005, and became Disturbed's second straight number one debut on the Billboard 200 chart as well as their second number one album in New Zealand. It is the first Disturbed album to not feature Steve "Fuzz" Kmak as the bass player; instead, it features John Moyer. This is the first album in which Disturbed's mascot "The Guy" appears full-bodied, and on the album cover. He also appears on the album cover of Disturbed's fourth studio album, Indestructible. The album was dedicated to the memory of Dimebag Darrell.
History
[
]
The track "Guarded" was released to radio stations in late June 2005 as a teaser, and the fully promoted first single "Stricken" was released on July 20, 2005. The album also features a cover of the song "Land of Confusion", originally written by Genesis. The song became the third single from the album, and the band worked with Todd McFarlane and Greg Capullo on the music video. In an article, it was stated that twenty songs were recorded for the album, but only fourteen made it to the final track listing. A "big influence" for the album was George W. Bush.
Reception
[
]
Ten Thousand Fists earned mostly mixed reviews from critics; it received a score of 59% on the review-aggregating website Metacritic, based on seven reviews.
Track listing
[
]
(All tracks written by David Draiman, Dan Donegan, John Moyer, and Mike Wengren, except "Land of Confusion", written by Genesis.)
Ten Thousand Fists (3:33)
Just Stop (3:46)
Guarded  (3:22)

Deify

(4:18)
Stricken (4:07)

I'm Alive

(4:42)

Sons of Plunder

 (3:50)

Overburdened

 (5:59)

Decadence

(3:27)

Forgiven

(4:15)
Land of Confusion (4:50)

Sacred Lie

 (3:08)

Pain Redefined

 (4:09)

Avarice

(2:56)
Tour Edition bonus tracks
[
]
15. Monster (4:05)
16. Two Worlds (3:33)
Personnel
[
]
David Draiman - vocals
Dan Donegan - guitar, electronics
John Moyer - bass guitar
Mike Wengren - drums
Johnny K - producer
Ben Grosse - mixing
Ted Jensen - mastering
Matt Taylor - artwork
Ellen Wakayama - artwork
Greg Capullo - artwork
Todd McFarlane - artwork
Clay Patrick McBridge - photography