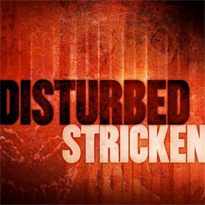 "Stricken" is a song by the American heavy metal band Disturbed. The song was released on July 25, 2005 as the second single from their third studio album Ten Thousand Fists. "Stricken" was certified gold in the United States by the Recording Industry Association of America on August 18, 2008 for selling 500,000 copies. It is one of the first of Disturbed's songs to include a guitar solo. The song is featured in Guitar Hero III and Guitar Hero Live in addition to the Disturbed track pack in Guitar Hero 5. The song is also a part of the Rock Band downloadable content catalog. The song was also featured in the Project Gotham Racing 4. The music video for the song was filmed in an abandoned hospital in which some scenes from the 1984 horror film A Nightmare on Elm Street were filmed. "Stricken" was used as official theme for WWE's PPV New Year's Revolution, in 2006.
Tracklist
Edit
---
1. Stricken [4:07]
---
2. Hell [4:14]
---
3. Darkness (Live At Music as a Weapon II) [4:02]
---
---
1. Stricken [4:07]
---
2. Dehumanized [3:31]
---
---
1. Stricken [4:07]
---
2. Dehumanized [3:31]
---
German/US PromoEdit
1. Stricken [4:07]
Community content is available under
CC-BY-SA
unless otherwise noted.