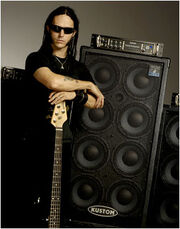 John Moyer (born November 30, 1973) is the current bassist and back-up vocalist for the rock band Disturbed, replacing their former bassist Steve "Fuzz" Kmak. Moyer also published Disturbed's third studio album Ten Thousand Fists and fourth album Indestructible.
History
[
]
Moyer was born and raised in El Paso, Texas. Moyer was formerly part of the Texas hard rock act The Union Underground. Prior to his stint in The Union Underground, he was the bassist of the popular band Soak, also hailing from Texas.
Moyer has a custom line with Traben bass company. He and the company produced his signature Traben Havoc. He also has custom amps with Kustom featuring his own design printed on the front resembling a skull engulfed in flames.
Discography
[
]
Soak
[
]
Omniphonic Globalnova (1995)
Self-Titled (1997)
Flywatt (1998)
2179 (1999)
Union Underground
[
]
An Education In Rebellion (2000)
Disturbed
[
]