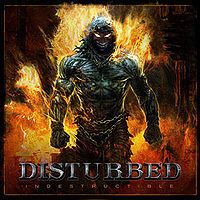 Indestructible is the fourth album by Disturbed. A self-produced effort, Indestructible is the first Disturbed album that did not feature Johnny K, the producer of Disturbed's previous three albums, The Sickness, Believe, and Ten Thousand Fists. Indestructible was recorded at Groovemaster Studios in Chicago, Illinois. The album features two songs, "Perfect Insanity" and "Divide", that were written by Disturbed prior to their first album, The Sickness, but were never previously released.
The album features significantly darker themes than any of Disturbed's previous work, according to the band. Some of the lyrical themes involve actual experiences that vocalist David Draiman had endured over the course of the past few years prior to making the album, including "bad relationships", a motorcycle accident that he was involved with, and even one about him dealing with suicide. To match the aggressive attitude and nature of said themes, Draiman told the other band members to create darker, more textural music than they have before. Despite these dark themes, the title track, "Indestructible", is a song of encouragement, meant to help soldiers that are fighting in wars feel strong.
Indestructible was released on June 3, 2008 in compact disc format, and also as two different limited edition and special edition digipaks, and it shipped over 253,000 units in its opening week. The album was met with mixed reviews by critics, earning a score of 57% on review-aggregating website Metacritic, based on six reviews, but the album still managed to peak at number-one on the Billboard 200 in its first week, making it Disturbed's third consecutive number-one debut on the Billboard 200, which had only been achieved by five other rock bands prior to the album's release. The album was certified platinum by the Recording Industry Association of America in April 2009, for shipping over 1,000,000 copies in the United States. The song "Inside the Fire" was nominated for a 2009 Grammy Award in the "Best Hard Rock Performance" category.
Recording and production
Musical style and lyrical themes
Promotion
Reception
Track listing