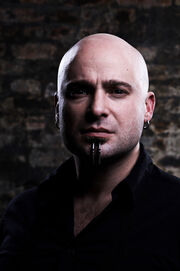 David Michael Draiman (born March 13, 1973 in Brooklyn, New York) is a songwriter and the lead singer for the band Disturbed, who hails from Chicago, Illinois. September 26, 2012 - January 18, 2018
Education and personal life
[
]
After attending Yeshiva High School at the Wisconsin Institute for Torah Study in Milwaukee, the Fasman Yeshiva High School and Ida Crown Jewish Academy in Chicago, and Valley Torah High School in North Hollywood, California, he spent the 1991-1992 academic year at the Neveh Zion Yeshiva in Telz-Stone, Jerusalem.
Draiman then triple majored in Business Administration, Philosophy, and Political Science at Loyola University Chicago and seriously thought about going to law school before joining the band.
Draiman believes it was not their musical talent that made Disturbed what it is today but that it was their fans. While performing live he refers to the audience as 'my brothers, my sisters, my blood'.
Draiman is lapse Jewish, fully losing his faith after his girlfriend's suicide and his grandfather's death.
January 25, 2011 Draiman's father Yj Draiman is running for Mayor of Los Angeles
He is thinking of performing in Singapore & is trying his best to convince his band members to do. Hopefully by next year.
Musical take-off and Girlfriend's suicide
[
]
Draiman auditioned for the band, Brawl, after their last singer, Erich Awalt, left the band. He joined in 1993, changing the band name to Disturbed.
Draiman was one of the six artists who sang for the Queen of and the Damned soundtrack, along with Jonathan Davis of Korn, Wayne Static of Static-X, Jay Gordon of Orgy (hot), Chester Bennington of Linkin Park, and Marilyn Manson. He produced Disturbed's second studio album Believe in response to his grandfather's death.
In 2003, he started his own record label, Intoxication Records, along with band member/guitarist Dan Donegan, and drummer, Mike Wengren.! David Draiman began performing live with Disturbed at Camp Buehring, Kuwait, on March 10, 2008. In 2006, Draiman was added to the Hit Parader "Heavy Metal's All-Time Top 100 Vocalists" at number 42. His girlfriend commited suicide, inspiring his hit "Inside the Fire"
Why David Draiman sounds the way he does David Draiman's voice sounds so much like a screech because he had surgery on one of his vocal cords because he had something wrong with his vocal cord.
Discography
[
]
Disturbed
[
]